---
The Nation's Oldest and Largest Black Trade Associations Form the National Alliance for Black Business
Posted By: Linder Posted On: 2022-10-10
---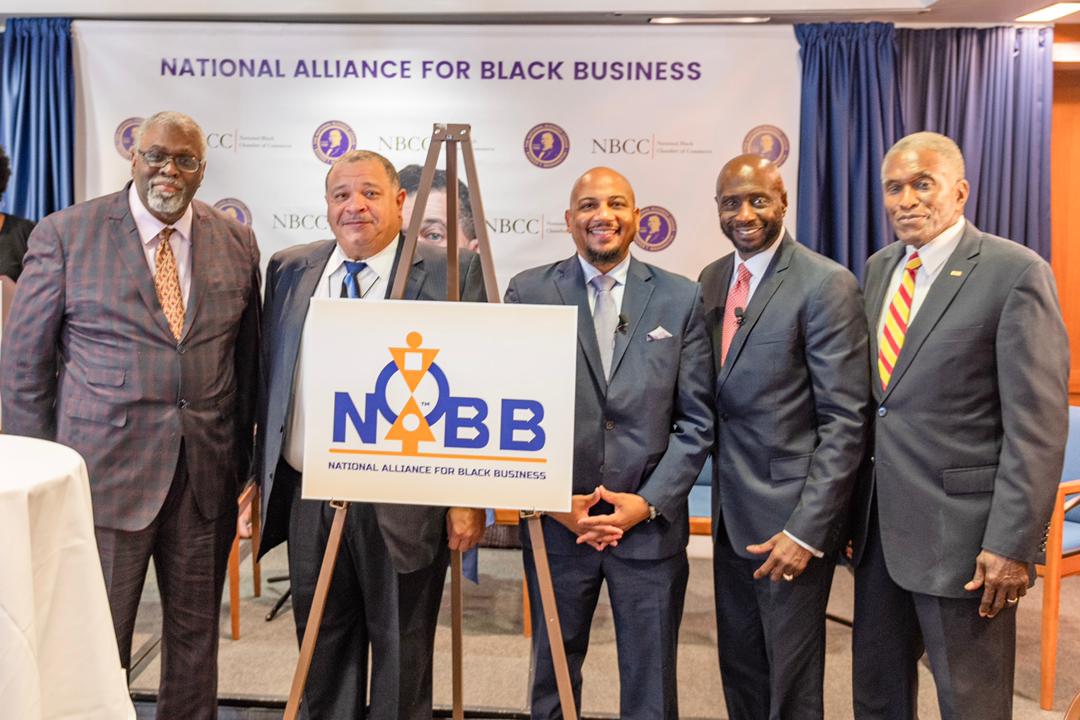 ---
ATLANTA—When traveling down the lobby escalators of the Hyatt Regency Atlanta, Black people from all over the country and the world were presented with a visual display of African art and culture. The display was a welcoming introduction to the 123rd National Black Business Conference that took place in Atlanta on August 24-26.
The National Business League, the National Black Chamber of Commerce and The World Conference of Mayors unified to host the conference. More than 1,000 Black businesses and professionals registered.
" This conversation about Black business, that's what the Honorable Elijah Muhammad, as well as Minister Farrakhan, they believe in. Black people supporting their own businesses, Black people governing their own businesses, Black people turning over the dollar in the Black community. We hope to accomplish all of that as a result of a conference like this," said former Tuskegee, Alabama, mayor and president and founder of The World Conference, Johnny Ford said, to The Final Call.
The Honorable Elijah Muhammad, the Eternal Leader of the Nation of Islam, listed the science of business as one of the three sciences never taught to the Black slave, the other two being the science of mating and the science of warfare. On page 40 of His book "Message to the Blackman in America," Mr. Muhammad recalled a congressional debate in the early 1920s concerning the appropriation of funds for Howard University. During the debate, a senator voiced that they would not teach Black people those much-needed sciences.
"He knew these were things free people must know in order to protect, preserve and advance themselves," the Honorable Elijah Muhammad writes.
"Inspiring Black people to go back, go into business. Start their own businesses. But the point is, we have to come to a conference like this to learn where the money is. And many times, we can generate the money ourselves. That's what Minister Farrakhan believes in, Black people spending money with themselves," said Mayor Ford. The conference is important because it brings together institutions with resources that Black people can take advantage of, he added.
The conference came on the heels of a recent partnership between the National Business League and the National Black Chamber of Commerce. The two organizations partnered in September 2022 to create the National Alliance for Black Business, to develop a unified Black business agenda.
"This is the foundational nucleus for us to mobilize the entire country. Every Black chamber in the country, every business league in the country, in connection with all of our historic Black towns and settlements, and the endorsement of all the Black mayors not just here in the United States of America, but throughout the world," Dr. Ken Harris, president and CEO of the National Business League, said during the conference's opening ceremony on Aug. 24.
The organizers noted the importance of a unified alliance to create an economic destiny. "This is the beginning of the enactment of a unified global economic empowerment by way of entrepreneurs," said Chuck DeBOW, president and CEO of the National Black Chamber of Commerce. "It's been our mission. It's been something that we theoretically and philosophically had espoused. But what you are a part of is the actuality of it."
The conference stands on the shoulders of Booker T. Washington, founder of the historic Tuskegee University in Tuskegee, Alabama. Booker T. Washington founded the National Negro Business League 123 years ago, in Boston, Massachusetts. On August 23, 1900, the league held its first national conference. "It was Booker T. Washington who brought together Black business leaders as well as Black political leaders, Black educators, Black nonprofit organizations, organizations from throughout the nation and the world to organize a national business league," Mayor Ford said during the opening program.
A pre-conference took place at Tuskegee University on Aug. 23, which included a tour of the university, a news conference and ribbon-cutting ceremony and a reception. The university is the national headquarters of the National Business League.
Conference organizers recognized the presence of representatives from Amazon, Comerica, Prosper Africa and the United States Commission on Civil Rights. Representatives from several African countries were also present, including Senegal, Uganda, Kenya, Barbados, Gambia, the Ivory Coast, Mali and Tanzania, along with a representative from New Delhi, India. The in-person conference was accompanied by an event app, Whova, where Black business owners and professionals scheduled their own meetups on different subjects, linked with fellow conference attendees and posted on the community discussion board.
Attendees also had the opportunity to directly support Black businesses via a Black business expo that took place on Aug. 26. Products and services ranged from food, clothing and books to personal care products and investment and consulting services.
Panel discussions
Conference panel discussions on Aug. 25 included "Re-Building Black Wallstreet," "Pan-African Diaspora Global Business," "Black Women in Business" and "Access to Capital for Black Business." The National Black Chamber of Commerce held a "30th Anniversary Dinner" in the evening, which included a red-carpet international fashion show.
"Re-Building Black Wallstreet" panelists acknowledged the detrimental effects of integration, namely, how Black-owned and operated businesses began to decline.
When Alberta McCrory was growing up in Hobson City, Alabama, the first established Black city, everything was Black-owned and operated, from the service station to the grocery store. She is now the mayor of Hobson City and is encouraging the pooling of resources and for young Black entrepreneurs to return to their communities.
Dr. Tyrene Wright commented that though Black people "integrated our dollars," White people didn't integrate their dollars. Jay Bailey, the president and CEO of the Russell Innovation Center for Entrepreneurs, noted how GDP (gross domestic product) is lost every year simply due to Black people residing in the parts of town that lack access to resources and opportunity.
Panelists also discussed the importance of the intentionality of spending money, how spending is a form of protest and strategies of resistance. They said White acceptance, assurance and capital are not needed for Black people to create their own economies.
"You spend your money where your people are. You can transform your people, which transforms your community," Dr. Lakeysha Hallmon, CEO of the Atlanta-based Village Market and Our Village United, said. Her organization has spent $8.3 million in direct sales on Black people.
"Everything started with a single idea of inspiring people to move, to mobilize where you are, to use those smartphones; to make sure your shopping cart was Black, make sure your dentist, your doctor is Black, make sure the guy that's working on your roof is Black," she said.
Dr. Tyrene Wright of City University of New York (CUNY) commented that "Whatever we consume, we should produce." Black women in business spoke to a majority-women audience on the importance of mentorship, finding a tribe, having partnerships and collaborations and social media and influencer marketing. They also answered questions from the audience. The "Access to Capital for Black Business" panel covered key barriers such as financial education and the willingness of financial institutions to share the rules of the game and to discuss underwriting.
"Your idea upon which you create your business will become your value," Joe Cecala, founder and CEO of Dream Exchange, said. "A lot of great ideas can start in a garage," he added.
Panelists mentioned the importance of finding an accountant, a financial adviser and a lawyer and staying in constant communication with them. They also talked about the importance of education and sacrifice for a successful business. "The secret is education. The secret is sacrifice. The secret is being on a path with goals and objectives and executing the goals and objectives to achieve success," Frederick L. Daniels Jr., of the Black-owned Citizens Trust Bank, said.
Workshops
The next day's agenda consisted of Black business workshops. Topics included trusting yourself, the transformative power of wellness, institutions of change, the athletic mindset in business, the U.S. Census Bureau, intellectual property ownership, the international trade association, mastering content creation, legal advice for start-ups, trade-marking, doing business internationally and globally, business plans and models, business planning and development, mental health of business, mastering public relations, getting your business legit, obtaining federal contracts and grants, where to start when owning a business and emerging markets and industries.
Tiffiney Ward from Atlanta attended the conference to see what other people in the business world were doing and to learn from their mistakes and successes. She was interested in attending the session on business plans and models, to help her company, Wordflux Solutions.
"Everyone has a business plan, but a business plan is always being tweaked so that you have a stronger business plan," she said to The Final Call. "I'm hoping to glean some new ideas and new tools that I can use to make a business plan stronger."
During a workshop on making your business legitimate, Racheal Allen, the CEO of Operations School, testified on how she left her job and started running a successful business within the span of a year. She outlined five steps people should take to have a legitimate business: getting legal, getting branded, getting operational, getting profitable and getting noticed.
Getting legal includes having an EIN, articles of organization and an annual statement, an operating agreement, licensing and permits, insurances, service, contractor and non-disclosure agreements, commercial savings, tax and payroll accounts, tradelines and a paydex score.
Getting branded includes having a domain name, branded email, evoice phone number, lifestyle and headshot photos, a brand archetype, a style guide, a logo and a website.
Ms. Allen talked through five needed systems to get operational: lead conversion such as subscription websites, project management such as Monday or Asana, operations such as Google Workspace, customer service and financials. She concluded that the main system needed is customer relationship management.
To get profitable, she voiced the importance of developing your customer avatar, creating a value spectrum, utilizing multiple payment systems, knowing your numbers and becoming oversubscribed.
To get noticed, she advised attendees to tell their stories, to create something newsworthy, to write their own press releases, to leverage digital marketing and to go where their customers are.
In another workshop, Diane Palmer, founder and managing director of B3 Elevation, shared five things every Black-owned business needs to succeed: a finance team, a legal team, digital presence, certification and elevation of the mind.
A concurrent session of workshops was held via a "Pan-African Diaspora Black Business Summit," presented by Prosper Africa. Those workshops included fostering trust and collaboration between the African diaspora and Africa, defining and exploring the African diaspora and its role, Africa's place in the global economy and supporting African self-reliance and diasporan independence.
A film titled, "Hapi," was shown, presenting a snapshot of economic history and the flow of money and information over time.
The day concluded with the "Booker T. Washington Black-Tie Awards Gala," which included a keynote speech from civil rights attorney Benjamin Crump.
Dr. Royelle Comer from Montgomery, Alabama, attended the conference to learn more about access to capital. "You want to be around people that are like-minded. You want to understand what's going on in the business world and how we can make our business grow and flourish," he said to The Final Call.
"Build relationships, take that back to our companies and grow them, and hopefully become part of this network as these conferences happen over the years."
Forrest Carter, the national director for the National Black Supplier Development Program of the National Business League, listed closing the wealth gap as one of the objectives of the conference.
"This many coming together of Black excellence from across the country, it's important to be able to scale. The same agenda, same objective, but it is only when we come together collectively en masse that we're able to accumulate the resources and the gravitas that could bring our objectives into fruition," he said to The Final Call.
---