---
Dream Exchange and NBCC Announce Strategic Partnership to Increase Public Capital Access for Minority-Owned Businesses
Posted By: admin Posted On: 2023-09-01
---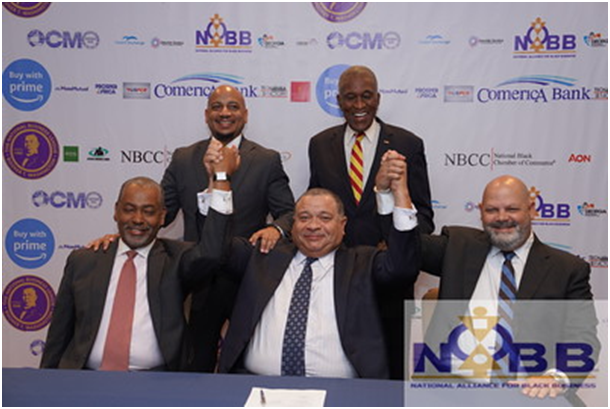 ---
Dream Exchange, First Minority-Owned Stock Exchange, Announces Strategic Partnership with the National Black Chamber of Commerce (NBCC)
Dream Exchange, the first minority-owned stock exchange, has announced a new partnership with the National Black Chamber of Commerce (NBCC), a non-profit organization dedicated to the economic empowerment of Black and others in underserved communities. This strategic partnership is a significant step towards increasing public capital market access for minority-owned businesses.
By uniting the resources, expertise, and networks of the premier Black business support organization, NBCC, with a new stock exchange in formation designed to provide unprecedented access to capital for small-to-mid-sized businesses, this partnership represents a historic milestone in the pursuit of economic equality in this country.
The two organizations will be creating a tailored ecosystem of financial services designed to meet the unique needs of minority-owned small businesses. It will open doors to enhanced access to capital, investment opportunities, and financial education.
"Our collaboration signifies a ground-breaking alliance that empowers minority entrepreneurs and revolutionizes the financial landscape. A unification of the NBCC and Dream Exchange is a testament to the strength of shared vision. Together, we are architects of opportunity, constructing a platform where underrepresented businesses can shine. This partnership is catalyzing dreams into reality, one investment at a time." - Charles H. DeBow, III, President and CEO of the NBCC
"Partnering with the NBCC is an important step towards achieving our mission of democratizing access to capital," said Joe Cecala, CEO of Dream Exchange. "We recognize the vital role that minority-owned businesses play in driving economic growth for everyone, and we are committed to working with the NBCC to support these businesses in a way that provides genuine help."
"Access to capital is a critical issue for most minority-owned businesses, and we are thrilled to partner with the NBCC to address this challenge," said Dwain Kyles, Managing Member and Director of the Dream Exchange. "By working together, we can ensure that Black entrepreneurs have the resources they need to scale, and that they are able to fully participate in our national market system."
Register for Dream Exchange's upcoming webinar, on Wednesday, August 30, at 4PM EST.
Revolutionizing Finance: Making Wall Street Accessible for All
Date and Time: Wednesday, August 30, at 4PM EST.
About National Black Chamber of Commerce
The NBCC is a non-profit, nonpartisan, non-sectarian organization dedicated to the economic empowerment of African American communities. Founded by Harry Alford and Kay DeBow Alford in 1993, the NBCC is the largest federation of Black chambers in the world and is dedicated to economically empowering and sustaining African American communities through entrepreneurship and capitalistic activity within the U.S. Visit www.nationalblackcc.org.
About Dream Exchange
Dream Exchange is preparing its application to become registered as the first minority-owned and governed company to operate a stock exchange in the history of the United States. Dream Exchange is also creating a new stock exchange called a venture exchange, to list small company stock.
MEDIA CONTACT:
Vanessa Jean-Louis
Vice President of Public Relations
1-773-914-1182
364466@email4pr.com
Read the Press Release
SOURCE Dream Exchange
---