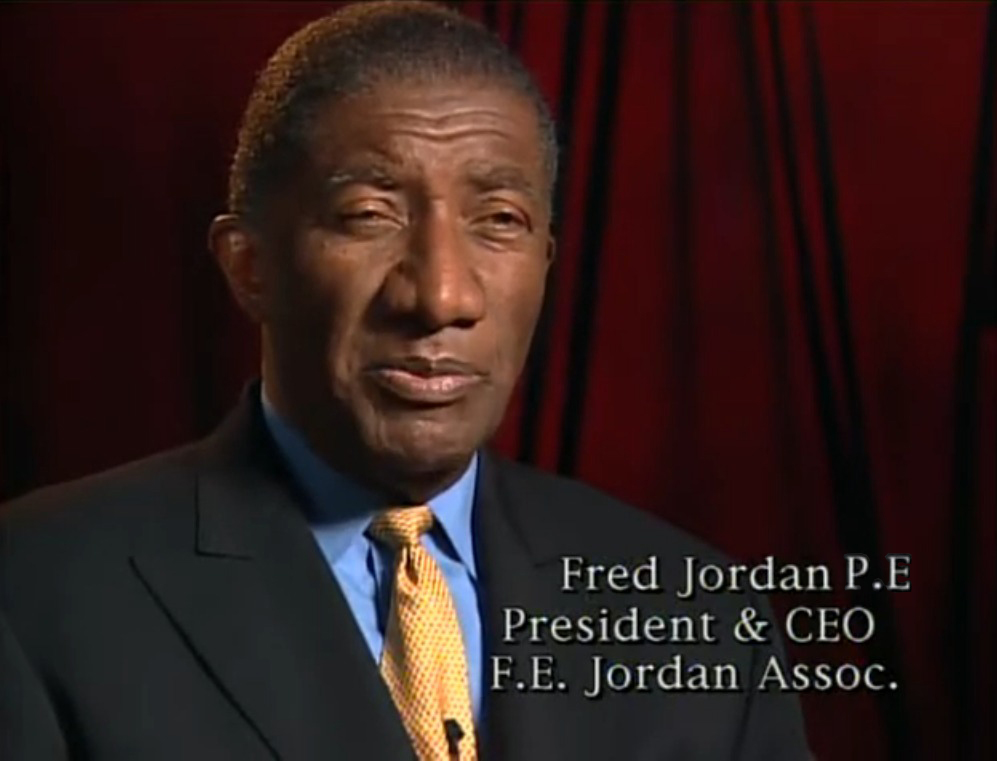 Frederick E. Jordan, P.E.
Founder, California Business Council
The Winner of 2022 Dr. Arthur Fletcher for Trust and Outstanding Leadership Award
Frederick E. Jordan, P.E. also known as Fred Jordan, is a civil engineer, businessman, activist, veteran, and author. He also serves on various boards and business networks, like the National Black Chamber of Commerce. Jordan received his bachelor's degree in civil engineering from Howard University. After serving in the Vietnam War, Jordan attended Northeastern University in Boston to earn his master's degree in engineering. During his first year at Northeastern, Bechtel Corporation, a global engineering company, approached him with a job offer in California. He took it, also transferring to Stanford University to complete his master's degree.
In 1969, after receiving his engineering license, he and three other engineers formed the company Jordan, Johns, Mathis, & Pierce. They did many redevelopment projects in predominantly black communities that other white engineers weren't comfortable working in. These projects took place all across the country—in San Francisco, East St. Louis, on the south side of Chicago, and in Seattle. In 1974, Jordan founded his own company, F.E. Jordan Associates, Inc., in San Francisco. The company, which is currently active, specializes in engineering, environmental sciences, and construction management. In 35 years, the company has completed more than 1,000 projects in the United States, Africa, and Central America. Notable projects include construction of the renovated San Francisco International Airport, the expansion of the Oakland International Airport, and the Charles P. Howard Container Terminal Wharf design, which is ranked the best container facility in the world and has inspired many other engineering projects worldwide.
Fred Jordan, engineer and entrepreneur, founded the California Business Council for Equal Opportunity. In September 1998, Jordan published a book titled The Lynching of the American Dream. In his book, Jordan advocated for affirmative action for all minority groups to counteract bias in education. He wrote this book in response to legislative actions trying to end affirmative action. Jordan was not going to sit back and watch others suffer, so he took the initiative to spread awareness with his writing. In 2008, it was reported that he was working on a second book. In addition to his writing and engineering accomplishments, Jordan has also fought discrimination against black business owners. In 2004, Jordan worked with John William Templeton, president and executive editor of Access Corporation, to cooperate in having the month of August recognized as National Black Business Month. The overall goal of the month is to encourage people to make a purchase from any business owned by a black person so that people become more supportive and aware of these businesses and help black communities thrive economically.
Today Jordan continues to advocate for the rights of others. He founded the California Business Council for Equal Opportunity and has been on the board of directors of the San Francisco Black Chamber of Commerce, the National Black Chamber of Commerce, Bay Area Urban League, Inc., and Greenlining Institute. Jordan's engineering company is still working on major projects, including the California HighSpeed Rail project, the first high- speed rail line in the country, currently designated to stretch from Merced to Bakersfield.